247DIFF
All the unique stories that each person has should be respected. Deeply believing in fate, I am interested in human relations, and try to convey a message of respect to people. Beautiful things come from details and differences. The contents of empathy is expressed brightly and humorously.
-
[#001 Salaryman]
A hectic work, monotonous daily life.

Sometimes he watches for an opportunity to escape from daily life,but then he pulls himself together and goes to work with a cup of coffee in his hand. He gets a little comfort from sweet ice cream and coke instead of alcohol.

There must be someone like him around you.


Check on website︎︎︎
[#002 Editor]
A busy editor always walks fast.

She is living in the same apartment as the salaryman.

Although she is busy, she seems to take care of her health by exercising regularly. She seems to be only interested in clothes, and her room is expected to be very clean and tidy.

The reason she always wears skirts: Nobody knows.

Check on website︎︎︎
[#003 Vintage Shop Owner]
The shop owner is a keen observer of people.
He seems to be trying to pinpoint the needs of the customers.

Although he seems a bit arrogant, he is kind and explains everything well.However, he doesn't enjoy being noticed inside or outside the store.

He moves fast and seems to be diligent. Also, his dress is always clean.

Check on website︎︎︎
[#004 Detective]
Very good at smelling.
Even if nothing happens, the detective collects pieces of evidence. It can be said to be almost a hobby.

The detective seems to be very experienced, skilled, and romantic at the same time.
It has not been revealed if he smells flowers or collects evidence.

Check on website︎︎︎
[#005 Intern]
Has been working here for about two months, she seems to be cool and highly intelligent.

She loves to listen to music, but the company doesn't allow to do so while working. It is not clear if she is in the same department as the salaryman.

The one thing she wants is to go home, listen to music, or go to see her friends.
Can you guess what company she works for? There is a hint you can find in the animation.
Check on website︎︎︎
[#006 Beauty Youtuber]
This person who seems to like pink just started her youtube channel.

She still looks clumsy a bit but seems passionate. She bought and prepared a lot of beauty items to show her subscribers.

Unfortunately, her channel doesn't seem so popular yet, but we'll have to wait and see how it goes.
Any subscribers?

Check on website︎︎︎
[#007 Old lady and a Dog]
Old Lady likes to go around with her dog.

She has been in the fashion industry for a long time, and her daughter also works in the fashion industry. She is taking the lead in animal protection and taking care of her health with vegan food.

I think she just found vegan cosmetics in a magazine.

Check on website︎︎︎
-
...more characters to be come.
247 STORIES : 7 CHARACTERS
Salaryman - Editor - Vintage Shop Owner - Detective - Intern - Beauty Youtuber - Old lady and a Dog
& to be continued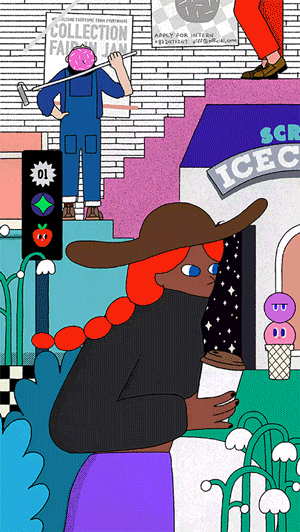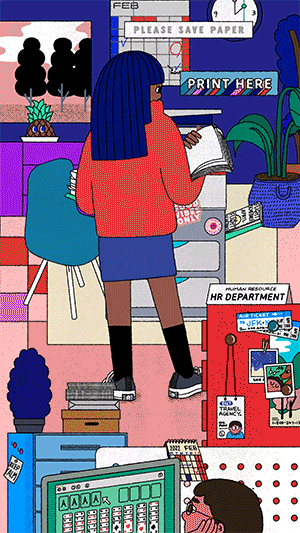 ︎



©2022. Lindsay Park all rights reserved.